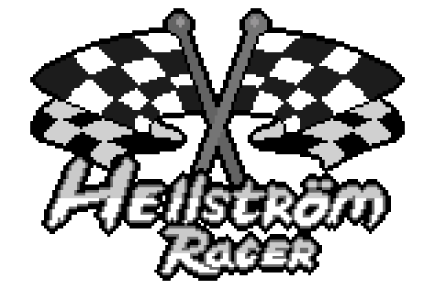 Hellström Racer: 8-bit Top-down Retro Racing
Retro Top-Down Racing: Hellstrom Racer
Version 0.9.8 - Game still in development.
Hellstrom Racer is a retro racing game, done in top-down, minimalist style. If you are a fan of old-school, retro racing games from the NES, Commodore 64, Spectrum, Master System, SNES, and Mega Drive/Sega Genesis - or even Amiga and Atari ST, then Hellstrom Racer may just be the game you have been looking for.
Inspirations for this game come from many years of playing excellent driving games on 8-bit and 16-bit systems. Favourite retro driving games include:
Ivan 'Ironman' Stewart's Super Off Road Racer
Danny Sullivan's Indy Heat
Buggy Boy
Supersprint
Badlands
Rock & Roll Racing
Micro Machines
Grand Prix Simulator
Lotus Esprit Turbo Challenge
Pitstop II
Stunt Car Racer
Outrun
While Hellstrom Racer is top down, and some of the excellent driving games listed are 3D in comparison, the elements of fun in them all was something that I tried to recreate in this game.
Buggy Boy elements, such as hitting soccer balls, avoiding walls, and other obstacles, are something that feature heavily in HR.
---
How to Play
Controlling the game could not be more simple. Your car automatically accelerates (on mobile devices), so there is no need to press a button. You simply have to steer your vehicle, using reverse when 'in a pickle'.
Mobile Controls
TOUCH the left or right half of the screen to turn
HOLD both sides of the screen at the same time to brake/reverse
Desktop Computer Controls
Left and Right arrow keys to steer
Up to accelerate
Down to brake/reverse
Gamepad also works
---
Gameplay
You choose a racer based on attributes that suit your own driving style. You may like speed, but are terrible at steering, so choosing a driver that suits your own style is crucial.
Once you have chosen a driver, you can race in two ways:
In single race mode, you select a track to play, then choose how many opponents to race, and choose how many laps.
In Championship mode, you play one of 15 championships, consisting of 5 races each, in an elimination style. Here's how it works:
Race 1: 32 cars

Finish in the top 16 to qualify for the next round

Race 2: 16 cars

Finish in the top 8 to qualify for the next round

Race 3: 8 cars

Finish in the top 4 to qualify for the next round

Race 4: 4 cars

Finish in the top 2 to qualify for the next round

Final Race: Head to Head

Win this race to win the championship
Each championship has a unique set of tracks, obstacles, and day/night races. By winning a championship, you prove that you are able to:
Win races with many other drivers - which can sometimes be chaotic affairs.
Win races with several hazards such as:

ice
sand
oil
water
gravel
cones
tyres
turbines
walls
gravestones
zombies

Win races in head to head format
Racing in Hellström Racer is a test of several disciplines - and requires a lot of luck as well as skill. Get off to a slow start by being caught by a turbine's blade, and it could be a long race!
Damage and Pitting
By hitting other cars (or them hitting you), as well as hitting various obstacles and track walls, you accrue damage which slows down your vehicle.
You have two ways of getting back to full health, which are:
driving into the pit lane
hitting a beachball or soccer ball
Hitting a ball also gives a second speed boost that makes you travel really fast, but also makes steering a little more difficult.
---
Drivers in the Game
I thought that it would be fun to add my favourite retro-loving 'Youtubers' in the game as playable drivers. In total, I chose 54 people, and you can see them here:

---
Platform(s)
The game is intended for Android (and hopefully IOS) platforms. However, as some people have requested, it may also be available as a download for Windows, Mac, and Linux.
---
How has Hellstrom Racer Been Made?
The game is built with the very underrated Construct 3 game engine, alongside some excellent addons and plugins. Any graphics work that I have done has been done with Aseprite.
---
People to Thank
Whilst I have developed this game alone, a few others have helped me with graphics, sound, and some code help. They are:
---
The end.
| | |
| --- | --- |
| Status | In development |
| Platforms | HTML5 |
| Rating | |
| Author | samuelbromley |
| Genre | Racing |
| Made with | Aseprite, Construct |
| Tags | 1-bit, 2D, 8-Bit, Arcade, Black and White, racer, Retro, Top-Down |
| Average session | A few minutes |
| Languages | English |
| Inputs | Keyboard, Xbox controller, Gamepad (any), Touchscreen, Smartphone |
| Accessibility | Color-blind friendly |
Comments
Log in with itch.io to leave a comment.
I love this game, but there are so many obstacles ahhh! XD
Hi Samuel! Really liked how the game is shaping up, I had some good fun playing the championships (but suffered a lot in quick races haha)! I love the art style and the music, it makes the game really stand out.
I have a couple of suggestions : )
- You could make ESC pause the game, I know there is a pause button, but if you are playing with the keyboard it is not straightforward, as it makes you have to grab the mouse, see where the pointer is, etc.
- I think that a "restart race" option would be great, it might be considered cheating somehow, but as the game is difficult and its easy to get damage, I think it would help advancing more in some championships and the enjoyment of the game
- This is very personal, so take it with a grain of salt. As the game is basically black and white, which I love, I'd like more visual cues of what is the road and what is an obstacle or out of bounds, I think it could help with the flow of the race. For example, I keep seeing bridges as obstacles. You could give the grass of the not raceable surface a texture (might be just dots, not to affect the overall look). In the trailer, water is blue, but at least for me in this version it is white, which made me think that those were ramps, I think making them blue would be better.

Great work! I'll be stopping by to try the new updates : )
Thanks for playing, and the comments, misterakuma!
I agree with the ESC thing. I am not sure whether I want the game to be a mobile or desktop game, and I keep changing my mind. But will add that in as I think you are correct.
Restart Race…I think because of my bad coding that it may be difficult (because of some vars), but I will test it out. I wont do this on championship mode tho, as people will cheat :-D
Yeah, I know what you mean about visual cues. I have added colour bits in before, but I never got the balance correct. I want it to be minimalistic, but as you say, I never even thought that the water could look like ramps, but now I see it :-)
So I think I will add some more 'flecks' of colour to the obstacles, so that people know what they are more. I was thinking of making the bridges transparent too, so I will do that.
I have a big update to do later, where I have done some better AI.
And yes! Long Live Top Down Racers!!! :-)
How do you join a championship? Whenever I click one it takes me back to the title screen. :(
That part is still in progress 👍
I have now added championship mode (beta), but it works good. makes the game really interesting.
Just gave the game another round of playing - great balance of difficulty in my opinion! When I was playing in championship mode with a bunch of cars, one thing I thought which would maybe help is to have some indicator of ranking for the other cars. Maybe not all of them but maybe 1st place and the place in front of you. The aesthetic might get too bogged down if you do too much. Anyways, nice job on this!
Thanks!
I am making lots of changes and there was a really important update yesterday where the camera is now dynamic, so it zooms in and out at appropriate times, making the game have more energy.
I will add the ranking to the 1st-3rd racers, as I think that you are right about this.
At the moment, championship mode is the same as single race, but when it is complete, there will be 30 championships to win, each with a trophy.
also, i have now made it so that you race as different users - using their exact driving skills. So you will be able to choose yourself (you are JoeFoozle) and you will see your image and name on the game :-)
Great game! the tire tracks nicely done / implemented :) Glad I made it into the game as one of the youtube drivers :D. Keep up the good work on it. Since you already have some good AI on going around the track, one thought I had was at the end of the race having your character continue to go around the track like you see in some racers. I also enjoy the pixel fans in the stands.
Cheers!
Thanks!
Working on it quite a lot over the next few months, so it should get a bit more polished soon. I like the idea of the cars continuing to drive after they have finished.